Call us at
(310) 539-1883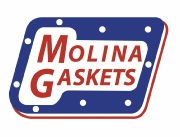 HISTORY
Molina Gaskets has been in business in the U.S. since 1967. It was established in Santiago, Chile in 1941 by Luis Molina. Luis was a retired military officer that was employed with an automobile importing company. It was then that Luis discovered that, because of World War II there was an extreme shortage of automotive parts. Equipped with this knowledge, Luis noticed that one particular part in need with no available manufacturer, was automobile gaskets. Luis started by purchasing gasket materials, and hand cutting the material with scissors. As demand increased, his entire family would help out with the process. One son in particular was also interested in the gasket making process. This son (an officer/accountant in the military) was Sergio Molina.
Sergio already had sales and manufacturing experience in gaskets and laundry detergents. Having the fundamental tools for running a business, Sergio started to think beyond his home country.
Sergio came to the U.S.in 1960 and struggled in the beginning. As time went on, his profession evolved to become a machinist. This experience would later prove useful in manufacturing. By 1967 Sergio was working after his day job on gaskets in his garage at home. Having established customers by going door to door offering gaskets to small garages, he was eventually able to commit his full time effort to the business.
In 1972 Molina Gaskets moved to its current location, and continued to manufacture gaskets. In 1991, as had occurred once before, Joe Molina (current owner & son) started to work for his father. Able to learn the business first hand from his father, Joe quickly learned the business. Bringing design drafting and mechanical engineering background to the business was beneficial to moving the business forward, and diversifying its products. In 2007 Sergio retired, and sold the business to Joe, whose efforts continues as strong as ever.